Business Development Culture
Speaking & Conferences
Company Conference SPEAKING
Make your conference an event that people talk about months later.  I partner with senior leaders to ensure that my Keynote is tailored, and syncs with the focus of the event. My speeches are designed to be interactive and encourage discussion to deliver lasting changes.  
Industry Conference Keynotes
Your delegates attend your events for many reasons, but being bored is not one of them.  High Energy, Humorous, Insightful and Inspiring is my default approach for Keynotes.     Each Keynote I deliver is tweaked to your delegates industry or area of interest.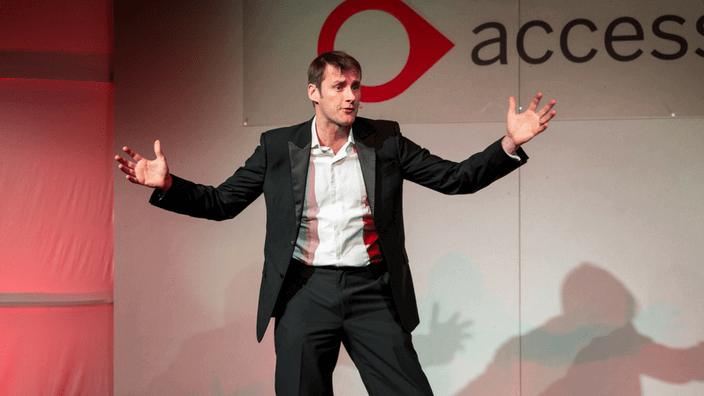 CONFERENCE
FACILITATOR & Host
Company CONFERENCES
Senior Leaders often need help to get their team's heads in the right place to move from where they are today to where they need to be tomorrow. I help leaders to ready their teams for a change, by designing and facilitating interactive meetings that focus on the way forward.
Industry Conferences
A conference host is the oil that keeps all the moving pieces of a conference on track.  Maintaining the theme through the day, keeping speakers to time and picking up the pieces if a speaker bombs, are all key skills when hosting a conference.   I use my industry knowledge sprinkled with a little humour to make events go from good to great.   
Business
Development Culture
Many business struggle t
o grow sales not because their product or service is poor but because they do not engage the whole organisation in the sales and delivery process.
Talks & meetings in this area enable:
More Collaboration between sales, service & delivery teams

Better cross-selling b

etween business units & functions

How to Define and executing a structured sales process.

Inspire individuals to take more ownership for personal p

erformance
High Value
Consultative Selling
Building a strong relationship in advance of a client having a need is key to a sales professionals success. Whilst many sales professionals talk of b
ecoming a "trusted advisor".  Yet translating a phrase into actionable strategies for sales success is harder than it looks.
Talks & meetings in this area help individuals to:
Understanding different types of clients individual needs and wants to increase the quality o

f business development activity

Aligning the Customer Buying Journey with the sales process.  

Define a service proposition that differentiates teams from their competition & supports their pricing strategy

Use business knowledge to establish you as a trusted "knowledge resource" to the client
Inspiring high levels of performance is more than just KPI's and an annual review. To achieve self-sustaining sales performance leaders need to inspire their teams to want to succeed for both themselves and the companies gain.
Talks & meetings in this area help enable:
Increased awareness between manager and subordinate of each others g

oals and priorities

Managers improving the way they communicate by giving and receiving feedback more effectively

How managers can use KPI's and targets to motivate rather than suffocate performance
07790907826 | alex@alexmoyle.co.uk